Retail Price: $149.95 Our Price: $99.95
Buy Now Windows
Platforms: XP, Vista, 7, 8
Buy Now Mac
Platforms: Mac OS X – Mountain Lion, Lion, Snow Leopard, Leopard
Computer monitoring is as easy as checking email. Instant email alerts sends you a duplicate copy of every email, IM, and Chat message sent or received and you can remotely change the email address you receive reports online. Get detailed reports every hour or once a day on all keystrokes logged, web pages visited, and programs accessed. eBlaster allows you to 'pick and choose' the emails you wish to see, using a powerful filtering function designed to save you time and the frustration of sorting through unimportant correspondence.
Prevent costly record-company lawsuits by ensuring your teen isn't illegally downloading music from P2P networks, such as Kazaa, LimeWire, or Morpheus. You'll know if your teen is talking with an adult a stranger or if they are discussing alcohol, drugs or posting inappropriate photos to Facebook, YouTube uploads and other social networking websites. Best of all, the top-notch stealth mode allows you to spy (monitor) secretly for maximum effectiveness.
Features:
Complete Communication Control – Receive immediate copies of all incoming and outbound communications. Immediately read your children's emails, whether they use Outlook or a web-based client (Gmail, Hotmail, and Yahoo). Read Instant Messages instantly, as well as Skype conversations and Chats. This might be the single most important monitoring parents can do to protect their children from online sexual predators, cyber-bullies and others.
Detailed Reports Keep You Informed – You set the frequency–every 30 minutes to once a day–and eBlaster will send the information to your inbox. Create a list of keywords you want to monitor and receive summaries of emails sent and received, Chats, and Instant Messages (IM), websites visited, programs launched, all keystrokes typed, keywords, and much more.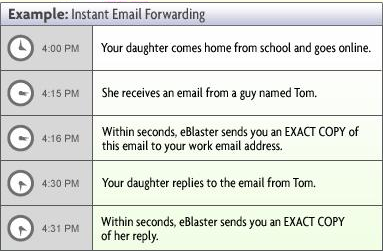 Built-in Theft Retrieval – Even if your laptop is stolen, eBlaster will continue to send its scheduled reports containing important IP address information that can be used by police to track your computer's whereabouts.
Block Websites, Buddies, Addresses, and More – Build a wall of protection around your family by blocking URLs, as well as the Chat/IM usernames of people you don't want your children to chat with.
Prevent Unauthorized Use – Are your kids using your private computer without your permission? eBlaster logs every login/logoff so you can know who's using your PC, when, and for how long.
Protect Yourself with P2P (peer to peer) Surveillance – The music industry is cracking down on file sharing, and if your teen is sharing music illegally, you could pay the price. eBlaster records information from P2P networking sites such as Kazaa, Kazaa Lite, Morpheus, LimeWire, and Gnucleus .
Perfect Away-from-Home Companion for SpectorPro – If you have SpectorPro providing protection on your home computer, but need a monitoring solution for while you're at work or away from home, eBlaster is an excellent companion product. You already trust the Spector Pro name for home PC monitoring; why not trust it to provide the best remote monitoring too?
Track Files Transferred – Do you know what your child is downloading? eBlaster will tell you the files they download or upload and you can see if they are posting photos Facebook or downloading illegal music, software, or pornographic material.
Monitoring Reports – See detailed records of all email activity – sent and reveived, Chat/IM conversations, keystrokes, websites visited, files transferred, user activity, online searches, MySpace activity, program activity, document tracking, and detected keywords.
Buy Now Windows

Buy Now Mac