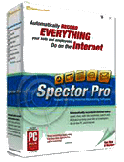 Retail Price: $169.95 Our Price: $99.95
Buy Now Windows
Platforms: XP, Vista, 7, 8
Buy Now Mac
Platforms: OS X – Mountain Lion, Snow Leopard
Honored by About.com and PC Magazine, this is one of the most comprehensive parental-control products available at any cost. Monitor emails, Chats, IMs, websites, web searches, launched applications, keystrokes typed, files transferred, Facebook and MySpace activity, and much more. Watch what your children are watching on YouTube and see what they're searching on Google. Spector Pro also captures Internet- based email services such as Hotmail, Yahoo Mail and AOL Mail, Gmail, MySpace, Facebook and others. Screenshot slideshows and extensive monitor logs let you see exactly what your child is doing online–just as if you were watching over his shoulder. Best of all, Top 10 Summary Reports give you the most important information at a glance-most frequent search terms, visited web sites, Chat buddies, email senders, and more.
Seeing is Believing – Spector Pro takes hundreds of screenshots every hour, so you can have a moment-by-moment look at your child's activities. Slideshows make reviewing screenshots a snap. The easy-to-use playback controls–play, pause, and rewind–work just like your VCR.
Crucial Information at a Glance – Top 10 Summary Reports give you a "best of" summary of your child's activities. Don't wade through all the logs if you don't need to. Immediately see your children's most frequent activities–Chat buddies, email recipients, web searches, websites, and more.
Keep Homework Time from Becoming Game Time – Is your child working hard on a book report – or is it just open to look busy? With the Activity Monitor, see what applications are running, and which are being actively used.
Spy Secretly and Monitor All Programs Launched – Super-Stealth Mode allows you to install and run this spy software without it showing up in the applications list, being detected by anti-virus software, or appearing in the system tray. Keep track of all programs launched and know who accessed the program.
Slam the Door on Porn and Predators – One-click controls allow you to instantly block inappropriate websites or Chat/IM screen names – preventing strange adults and potential predators – from soliciting your children.
Advanced Warning Alerts – Sophisticated keyword detection will notify you immediately if your child types words or phrases on a 'blacklist' you create. Reports and alarms come directly to your work email or cell phone–wherever you are.
Collect Passwords, Usernames, and More – See every single key typed–every single one. Collect passwords for accounts they didn't tell you about, documents they typed but didn't save, and emails they wrote but didn't send.
Complete Internet Monitoring – Block Internet/Chat access entirely or read every email your child receives, sends, or views. Know who writes to your child–and whether your child writes back. In addition, Spector Pro logs all visited websites and all Chat conversations.
Monitor All Computer Activities – Kids don't need to be online to get into trouble. The application log lets you know who is using the computer when, what programs they launch, how much time they spend on each program, and much more.
Monitoring Reports – See detailed records of all email activity, Chat/IM conversations, keystrokes, websites visited, online searches, program activity, document tracking, detected keywords, MySpace activity, and screenshots
Instant Download
Buy Now Windows
Buy Now Mac