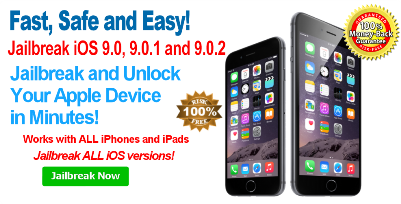 Features
Our Price: $29.90
Compatible with All Apple devices – iPhone 4, 4G, 5, 5S, 6, 6+, 6s, 6s Plus, iPad, iTouch and Apple TV devices with iOS 9.o.2 and below.
Unlike Cydia, you have customer support and the software is Guarantee 100% and you can restore you iPhone or other Apple device back to factory settings and you receive lifetime upgrades each time Apple updates to a new iOS version.
Do you want to monitor the apps installed on your child's iPhone, monitor what they do, text messages they send and receive. Do you want to be free from Apple's restrictions? Access apps you can't now because of the control Apple has over you mobile iPhone? Use your iPad as a modem? Install Android software on your iPad, iPhone, iTouch or Apple TV? Give yourself the freedom to download any Apps you want but more importantly the ability to monitor what your child does with their iPhone or other Apple device.?
Jailbreak iPhone 6, 6+, 5, 5S, 5C, 4 and 4G is the number one rated jailbreak software on the market today. We entered into a agreement with the company to provide our customers with this product.
Are you afraid to jailbreak you child's iPhone – don't be the team at this company telephoner customer support to walk you through the short steps to jailbreak your device. Or you can follow the step by step fully illustrated directions to install the software.
You are Guarantee 100% that your iPhone will be jailbroken and unlocked and your warranty will NOT be voided. This app is guaranteed not to damage your iPhone and it comes with a 100% money back  guarantee.
You will receive step by step, fully illustrated, directions to follow. You will jailbreak and unlock your iPhone within minutes! Both Windows and Mac are supported. The process takes in less than 5 minutes.
You also are provided with software updates to help you jailbreak and unlock your iPhone.  Just a few easy to follow steps and you're done!
Customer Support is available 24 hours a day, 7 days a week. You can submit support tickets via email or speak to a LIVE person! Telephone support is available Monday thru Friday 9am-5pm EST.
Free Lifetime upgrades.