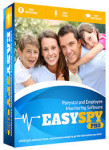 Our Price: $69.99
Features
Compatible with any iPhone 5, 5s, 6 and 6+ running iOS 9.1 and below, Android, Samsung Galaxy all models, Symbian OS Compatible Smart Phones. Compatible Android OS Tablets – iPad, iPad Air, iPad Mini and Android Tablets.
Introducing: EASY SPY The most powerful and easy-to-use program for tracking cell phones, iPads and Tablets you will find anywhere…GUARANTEED! Best of all it's a one time purchase cost. No monthly costs and you do not have to jailbreak your child's Apple device.
Monitor Viber, LineChat, WeChat, WhatsApp, Skype, Instagram Logs, Twitter, BBM, and more…
Access deleted messages, see ALL pictures taken with the iPhone or Android device. Easy Spy records all videos and photos taken with the monitored phone.
Instant Download
iPhones do not need to jailbroken to access all of the monitoring features.