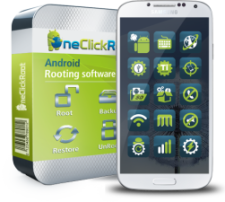 Our Price: $39.95
Buy Now
Compatible with  Windows XP, Vista, 7 & 8 Android OS.  Samsung, Motorola, HTC, LG, Sony Ericsson and other Android phones
Want to free up your Android smart phone, tablet to install any app, change views, improve battery life, speed, block advertisements across all apps, and much, much more…well we have the best, easy and safest Android Root software for you.
One Click Root has been around for years has the most reliable root software on the market, and works with a wide range of devices. Remove bloatware, Free WIFI Tethering, block advertisements, and install the latest versions of Android OS.
The team at One Click Root has tested it's software against others and is the best, supports a wider range of devices and includes many extra fail safe measures. More importantly you will receive full technical support.
If you want them to walk you through the process their tech team will do so and make you feel comfortable during  the process. They will install root apps for you and repair Android problems you may be having with your mobile phone.
You can also unRoot your device back to factory settings anytime. One Click Root is Easy, Safe, Supported and Guaranteed.