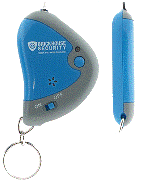 Toddler Tag Child Locator
Know where your child is at all times
Retail Price: $39.95  Our Price: $29.95
Buy Now
Do you worry about your child running into a crowd when you're shopping? The Toddler Tag Child Locator is a device that will allow you to locate your child in any crowded space or in a large open area. It's perfect for malls, airports, parks, pool, sporting events or any crowed open area. The unit easily attaches to your child's book bag, clothes, belt or bag and the parent transmitter can be attached to your key chain. The Toddler Tag Child Locator is a dual-functioning device and there are no monthly fees or service plans.
The device provides an electronic wander alert when your child is not near you. In the event your child saunters away more than 30 feet from you the transmitter will sound a wireless notification making it easy for you to find your child. The device also functions as a one-touch locator. All you need to do to find your child is push the button and the Toddler Tag Child Locator will sound an alarm on the child's receiver unit. This alarm will alert you to your child's location and serve as a deterrent to any potential danger.
It's similar to a GPS locator but better because it's designed for use when you are out with your child or when your child is in the backyard. Never let your child get lost and know where they are at all times. The device and receiver work on a wireless transmitter signal.
Many customers have purchased this device for parents or grandparents who are out with them and they want to keep track of their location for safety reasons.
Click on the link below to for the Toddler Child Locator and view other child safety products: Nanny Cams, Swimming pool alarms and more! Keep your children safe year round. Always know where your child is at any time of the day.