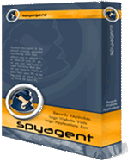 Retail Price: $99.95 Our Price: $79.95
Buy Now Windows, Microsoft Surface
Platforms:  XP, Vista, 7, 8, 10,
Capture EVERYTHING your child does on their computer with SpyAgent Stealth! This is one of the most complete monitoring software products on the mark to monitor a laptop or computer. SpyAgent Stealth has a robust set of tools that records keystrokes, passwords, chat and IM conversations, websites visited, capture webcam images, and applications launched, apps used websites visited and more. See DVD like screen shots playback and receive activity logs of everything your child does on their computer via email or FTP. You won't miss anything your kid does on their laptop or desktop. Know what your kid's are posting on Facebook, or watching on YouTube. Know if they are in any danger or are being bullied.
Remote Installation – No need to be at your child's computer to install the software. The software can be emailed to the remote computer and the installer can be rum in seconds.
Monitoring all traffic on the remote computer is invisible and your child will not know they are being watched. Of course, you can choose to let them know you will be tracking their activities on their laptop/PC.
See deleted messages, block and file sharing programs (P2P), know who they are emailing and their Facebook friends. This one of the best internet filtering and monitoring software on the market.
Comes with lifetime support with only one purchase.