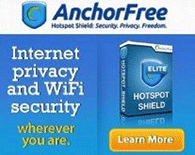 Our Price: $29.95
Buy Now
Platforms: Windows and Mac iOS – Computers and Mobile Devices

Concerned about your privacy when surfing the Internet? Most of us are, especially with the news of Eric Snowden and how the government monitors everything we do online. Protect your personal information and websites searches and change your IP address with Hotspot Shield Elite.
Shop online safely and keep your identity, passwords, downloads, products purchased, search engines information from hackers looking to gain access to your personal information. Once installed Hotspot Shield Elite's VPN will protect and hide your IP address from hackers, ISP providers, and anyone trying to steal your identity while online.
One purchase can be used for three devices, laptops and mobile phones.
Hotspot Shield Elite will mask your true IP address assign your computer an IP address from another state, or country.
Keep your identity safe at all times when in coffee shops, airports or just surfing the web at home with Hotspot Shield Elite. Don't become a victim of cyber-crime – protect yourself and your family from identity theft.
Instant Download