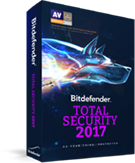 Retail Price: $99.95
Our Price $49.97
Buy Now
Platforms: Windows, Mac and Android
One license protects five electronic devices-computers and smart phones. Rated best product of the year by PC magazine.
Are your digital devices protected from malicious software downloads? Is your personal information secure? How safe is your laptop, netbook, tablet and cell phone from spyware, malware, phishing and drive by downloads?
Bitdefender Total Security Protection gives you peace of mind by protecting your computer and tablet from intruders gaining access to your personal information or installing viruses, spyware or malware on your digital devices.
Bitdefender is the most comprehensive anti-virus, anti-malware, anti-spyware computer protection software on the market today. If your laptop is stolen, Bitdefender will locate, lock and or wipe the laptop to protect your identity and personal information.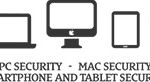 Protects your family from harmful content and hackers attacking your computers, cell phones and tablets. Shop, bank and surf the Internet safely knowing your personal information on all electronic devices are protected by Bitdefender.
Key features provided by Bitdefender:
– Anti-virus, malware, spyware and spam shield
– Website monitoring
– Netbook and laptop loss protection
– Computer tune-up
– Daily virus updates
– Enhanced Parental Control features
– Secure Internet purchases
– Digital identity theft protection
– Facebook protection
– Anti-Theft  Device Protection
– Smart Phone Protection
– Android Tablet Protection
Instant Download