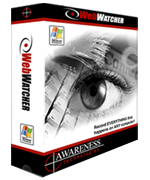 Buy Now – $99.95 – Windows, Surface, Surface Pro, Tablets
Platforms: XP, Vista, 7, 8, and 10
Buy Now – $99.95 –Mac
Platforms: Mountain Lion, Mavericks, Yosemite, El Capitan, and Sierra

WebWatcher one of the most robust computer monitoring software products available on the market today for Windows and Mac computers, laptops and Windows Surface Pro.
WebWatcher now provides smartphone, laptop, and tablet protection for Android Tablets, and BlackBerry – iPad, iPhone, and  iTouch – NO Jailbreak needed.
So powerful, it is used by schools and law enforcement agencies around the country and it can monitor multiple computers at once. Two products in one, WebWatcher combines intelligent web filtering with powerful child monitoring. Once installed, you can access data from any computer in the world that has an Internet connection.
Your PC or laptop doesn't need to stay on one network – WebWatcher is the only software that monitors laptops (Windows and Apple) when your child takes it to the library, a friend's home, or your spouse takes it on a business trip. See all emails, Chats, and Instant Messages, Word, and Excel documents, social media posts on Facebook, Twitter and YouTube or only the ones you need to see in real time. Smart Camera technology records surveillance movies for more thorough monitoring. Easy-to-use filter features let you block websites by category, address, or content.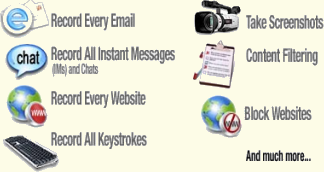 Features:
Filter and Monitor in One Product – Most parental control software either monitors computer activity or limits web/computer access. WebWatcher is one of the only products on the market to do both. With all the monitoring features you'd expect from spy software and all the functionality of the best filters, this product provides complete protection for your entire family.
Easy to Use Technology – You don't have to be a computer expert to install and use WebWatcher. It is easy to install and easy to use. Once you purchase it you will have the software up and running in no time. It's incredible that such a powerful program can be used by computer novices.
Monitor Anywhere, From Any Computer, and Multiple Computers – WebWatcher is the only monitoring software that allows you to remotely monitor all computer activity in real time from any computer with Internet access. With WebWatcher you can monitor as many computers as you want. Best of all, this product works even away from your home network, which makes it great for laptops, too. Keep monitoring your computer, no matter where it goes-away to college, on a business trip, or to a friend's house.

Exclusive "Guardian Angel" System – Stop after-school parties before they begin. WebWatcher's "alert words" allow you to specify words of particular concern to you and your family. Be instantly notified of any communications or web searches including those words, or block websites from view  It's like having a guardian angel on your shoulder.
Know What's Coming In and Going Out – WebWatcher will let you read the complete text of all inbound and outbound communications, including emails (POP3 and web based), Gmail, Chats, Instant Messages, posts on Facebook, Instagram, MySpace and uploads to YouTube.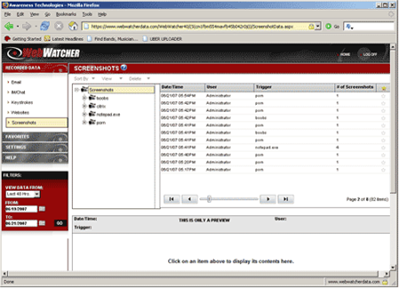 Do You Know Your Children's Passwords? – You may think you know their email passwords, but do you know their MySpace or Facebook passwords, or do they have accounts you don't know about? WebWatcher's keylogger captures ALL typing, including passwords, logins, unsent emails, and unsaved documents–everything. This software gives you complete control and knowledge of everything your child or teen does on their computer. Don't think you're spying – you are doing you job as a parent. Is your child buying drugs online? Are they planning a party when you're not home? As a parent you need to know these things.

"Smart Camera" Technology – Sometimes you need as much detail as possible. WebWatcher's "Smart Camera" feature records nearly constant screenshots to capture mini-movies of the computer screen. See what is being watched, read, or typed at all times.
Shut the Door on Pornography, Violence and Bullying- Block entire websites based on web address or any keyword your concerned about. Choose from WebWatcher's predefined filters, or customize your own level of filtering protection.
Secret Monitoring Is Safe Monitoring – You might tell your children they're being monitored, but WebWatcher never will! Designed to not interfere with virus-protection software, it will also not appear in the registry, process list, system tray, task manager, add/remove programs menu, or on the desktop.
Monitoring Reports – See detailed records of all email activity, Chat/IM conversations, Facebook, Instagram, WhatsApp, Twitter, YouTube videos uploaded or watched, keystrokes, websites visited, online searches, program activity, keywords detected, and screenshots. You can view these details in one click and block web sites immediately.
Block Programs and Apps – Block any program for a period of time or forever. You control what your child can access on their computer.
Money-Back Guarantee – Try it with no risk! WebWatcher backs its product with a 100% money-back guarantee if you are not satisfied and request a refund within five days of the date of purchase.
WebWatcher Won't Leave You Stranded – Get the answers you need around the clock with WebWatcher's 24/7 customer support. Access the online Interactive Knowledge Base or get personal assistance with live chat, email, and toll-free telephone support.
Instant Download
Buy Now – Windows
Buy Now – Mac