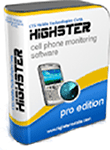 Retail Price: $129 – Our Price: $69
Features
Compatible with all iPhones, iPads, Android, Windows,  Symbian OS Smart Phones, and prepaid phones. Supported mobile carriers – Verizon, AT&T, Virgin Mobile, T Mobile Phones, Sprint and US Cellular, and metroPCS and other carriers.
Highster monitors  iPhones, iPads, iTouch and Android Tablets.
See text messages, photos, and emails as they are sent! Highster a new entry into the cell phone monitoring market has developed a feature rich cell phone software that established mobile phone spyware companies offer but for a one time cost with no monthly fees or annual renewal costs and lifetime upgrades. The most comprehensive, cost efficient parental control smart phone monitoring software on the market.
No access to the monitored device is needed. Simply enter the Apple ID and password, Highster/Auto Forward will download the date, even if it was erased, log into your secure account and you now can view messages, photos, and more on the device.
Unlike other mobile phone spyware, Highster's App provides a 'Mirror' of everything your teen does on the monitored mobile phone. Identical copies of all photos, emails, text messages, call logs – Everything – is sent to your email address or your mobile phone from the target phone as it happens. You decide what information you want to read, save or delete. See what they post on Facebook Messenger, Instagram, WhatsApp, BBM, Viber, Skype, and social media sites.
If the monitored cell phone's number is changed, the software will continue to monitor the mobile device and you don't have to reinstall the application or make any changes to the monitored phone.
The phone to be monitored does not need Internet service for the application to work and the software can be installed on Prepaid mobile phones.
Features:
Call Recording – A record of all call information, including date, time, contact name, phone number dialed and received.
Microphone Activation – Listen in on whats happening wherever the monitored phone is located.
Text & SMS Messages – All text message content,  date, and time sent or received, telephone sending message to the monitored mobile device.
Pictures and Videos – See all photos and videos sent and received immediately.
Call History Recorded – Receive the date, time, and a downloadable audio file of all calls.
Email's – See content of all emails sent and received from monitored mobile phone.
GPS Tracking – Track the targeted mobile phone in real-time. Watch as your child leaves the house and heads to school or a friend's home. See photo of location.
Voice-mail Monitoring – Listen to all voice messages left on monitored phone.Give yourself peace of mind knowing your child is using their cell phone safely and not in any danger.
Block Installation of Apps – Decide what apps you don't want on your child's phone –
Recover Messages – Even if  a message is deleted or old it can be recovered. If a message is deleted or old it still can be recovered.
Free Lifetime upgrades!
30 Day Free Trial – Download Immediately