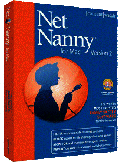 Our Price: $39.99
Features Windows
Platforms: Windows Vista, 7, 8, 10, Surface
Features Mac, iPhone
Platforms: Mac OS X 10.7 or higher
Features Android
Platforms: All Android and Kindle Devices
Net Nanny is one of the most trusted and recognized names in parental-control  – child protection software. Net Nanny offers instant IM email Alerts based on key words you want to monitor. Comprehensive Social Network monitoring for all popular social media websites, Facebook, Twitter, Pinterest, Tumblr, Twitter, Kik, Viber, LinkedIn, Google+, Bebo, YouTube and more. Gain complete control over the Internet, including websites, Usenet, P2P networks, Chat rooms, Instant Messages, FTP, and email. Net Nanny also monitors any websites visited on your child's mobile phone.
Unlike many of its competitors, Net Nanny allows you to block online game sites. Activity logs allow you to see what websites your children have visited-or tried to visit-as well as the complete texts from their IMs. Powerful web filters protect your family from images, pornography, and even objectionable content in multiple languages. Net Nanny's Remote Monitoring feature allows you peace of mind when you're not home because you can monitor your child's online activity from any computer with Internet access. Know what your child is doing on major social monitoring websites like Facebook.
Features:
Safe Searches, Safe Kids – Net Nanny is designed to work flawlessly with the big search engines' "safe search" options, allowing better protection in image searches and ensuring your kids cannot override the protective features and enable Google SafeSearch with safe search mode.
Social Media Monitoring – Receive alerts to identify potential stalkers, cyberbullying, self harm from posts on the most popular social media websites. Know what your child is doing on Facebook and other social media platforms.
Does Your Kid Know More About Your Computer or Smartphone Than You Do? – Designed with less-experienced computer users in mind, Net Nanny is easy to install and use, and hard for your children to disable.
Instant Message Alert and Analysis – Now you can receive Email Alerts when your child contacts someone setup as an inappropriate user, provides personal information, locations to meet someone, or other IM content.
Enhanced Reporting – Net Nanny reports provide you with a view of your children's Internet activity. As a parent, you will know what sites your children have visited, and what sites they have attempted to visit. You will also be able to see full text of the actual Instant Messages and Social Networking reports. Net Nanny empowers parents to monitor and or block children's access to certain areas of the Internet. Internet Predators don't have a chance against parents armed with Net Nanny.
Completely Customized Protection – Tailor Net Nanny to fit your family's needs. Whether your child needs only partial protection, or a complete lock-down, you can adjust Net Nanny to allow only certain actions in instant messaging, P2P networks, Chat rooms, and more.
Block All Dangerous Elements – …not just pornography. You want to keep your child away from online smut, hate sites, adult Chat rooms, and online gambling and game sites. Net Nanny can prevent your children from installing and playing computer games, and accessing gambling sites, with parental ratings that you deem appropriate. Block access to pornography websites.
Current Threats, Current Protection – Net Nanny automatically downloads retail updates to ensure up-to-date protection against new websites, online activities, and other threats.
Watch Closely, Monitor Remotely – Monitor IMs, chats, text messages and web browsing from any computer-whether you're in another room or another country. Remote management tools allow you to customize your protection, even while you're at work.
Records All Instant Messages – See incoming and outgoing Instant Messages to know who is contacting your child and what is being said. A complete Parental Control Software package to record what your kids are doing online.
Block Online Dangers – Keep your child from participating in illegal music sharing, online gaming, adult forums, and more by blocking entire activities.
Prevent Online Overload – Keep computers from taking over your child's life by creating individualized time allowances or using Net Nanny's time-control features to "lock out" your child after bedtime.
No Updates to Install-Ever – Net Nanny automatically downloads and installs updates without you having to do anything at all. No messing around with configuration, slow download speeds, or other hassles. Your protection stays current and strong.
Immediate Download
Buy Now Windows
Buy Now Mac, iPhone

Buy Now Android