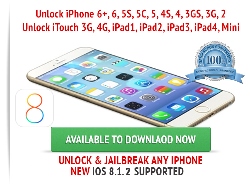 Our Price: $19.95
Buy Now
Compatible with Apple iPhone 6; 6+, iPad, iTouch and Apple TV devices with iOS 8.4 and below
Do you feel 'locked down' with your Apple device? Do you want an 'open source' device that will let you download any app you want – including Child Monitoring Software? This is your product is for you.
Compatible with most wireless carriers worldwide – AT&T, T-Mobile, Fido, Orange, Tracfone, Vodafone, O2, Oi, Telefonica, Rogers, Tim, DiGi, Cellone, Swisscom, Telcel, Starhub, Si.Mobile, Telenor, Cellcom, MoviStar, Optimus, Verizon, and many more.
Apple Unlocker makes jail-breaking or unlocking any Apple device simple and easy. Better yet, it can all be done in less than five minutes; and you don't have to be a techie to make your iPad, iPhone, iTouch and Apple TV an open source device.
Free yourself, use Flash and access even more applications. Get apps not sold in the Apple Store. After you Jailbreak your iPhone you'll have access to FREE Tethering (your phone can act like a modem – generally a $25 cost) and much more. Apple Unlocker has done rigorous testing on its software and it's guaranteed to work or you'll get your money back simple as that.

Worried about something going wrong? Don't, because this procedure is fully reversible, and if you'd like –  the company will do a factory Unlock. It works world wide, you'll receive free firmware updates for life and you can use the license on all Apple products you own.
You'll have access to a pictorial guide and video that will walk you through the process. If you have any questions or concerns premium technical support is available 24/7.
Once your Apple device is jailbroken you can install any iPhone software we sell to monitor what your kids and loved ones are doing on their iPad, iPhone, and iTouch devices. Don't be tricked by software manufacturers that don't tell you – if you have an Apple device it must be jailbroken to install Apps not available in the Apple Store.
The software is safe and legal to use and it won't void your warranty because you can revert your iPhone back to it's original non-jail broken state.
ALL Apple Devices (iPhones, iPads & iTouch) MUST be Jailbroken before third party software can be installed. Try our best rated money back guaranteed Jailbreak/Unlock solution.
Concerned?  Don't be – the process is fully reversible and if  you'd like, the company will perform a factory unlock on unused phones so they can be used with any wireless carrier.
No technical skills needed, it takes less than five minutes, and you'll receive free lifetime upgrades.
It's an easy and safe process.
Instant Download