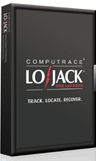 Retail Price $50.99 – Our Price $49.99
Buy Now Windows
Platforms:  2000, XP, Vista, 7, 8
Buy Now Mac
Platforms:  OS X v10.3,  and above
Worried about your child losing their laptop computer? Has your laptop ever been lost or stolen? LoJack Laptop Protection allows you to remotely delete.. ALL files from your stolen laptop and track down and recover your stolen laptop no matter where it is.
LoJack laptop protection has recovered laptops in 94 countries. Their recovery team has over 1,000 years of experience with team members with experience in Homeland Security, The FBI, Marines, US Army Intelligence, Law Enforcement agencies, and various government positions.
How It Works
LoJack Laptop Protection has partnered with top computer manufacturers to embed their technology into most computers at the factory.
When you install LoJack for Laptops, you're installing the Computrace® Agent that activates in your laptop once installed.
The technology contacts the Absolute Monitoring Center via the internet periodically.
When you send a Lock or Delete command from your account the Agent will receive and carry out the command.
If your laptop is lost or stolen, LoJack's laptop Protection's Theft Recovery Team activates a connection to your laptop to obtain forensic evidence that will aid local law enforcement in their investigation to recover the lost or stolen laptop.
Data Delete
With this feature, you can prevent the loss of your personal information and stop identity theft by remotely erasing personal files, photos, social media and other account passwords, financial information and more.
Device Lock
Use feature to remotely lock your laptop, negating thieves' access to your computer files and personal information. You can also send and show a customized lock-out message on the laptops screen.
Recover
LoJack's Professional Theft Recovery team and their patented technology have proved that they can retrieve your personal laptop. They have done this year after year and recovered thousands of stolen laptops.
Protect your family from Identity Theft – Install LoJack Laptop protection
Instant Download