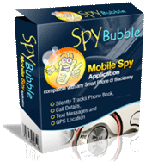 Retail Price: $149.00 Our Price $49.97
Buy Now
Compatible with iPhones, iPads, iPad Mini, all iOS, Windows Mobile, Android and Symbian mobile phones, iPad and Android Tablet Monitoring.
Have peace of mind knowing what your kids are doing on their cell phone, iPad or Tablet. SpyBubble has all the features to monitor everything done on these devices.
SpyBubble's powerful mobile phone and tablet spyware is priced low when compared to similar software. It's totally invisible and undetectable and once installed you can monitor all SMS text messages, photos sent and received, incoming and outgoing emails, calls made, the duration, time calls were made and see all phone numbers and names in the monitored phones memory. Messages deleted from the phone remain on SpyBubble's server for you to see.
The GPS feature lets you know the exact location of the smartphone and where your kids are 24/7 using Google maps. Once purchased you'll receive a user name and passcode to log on to SpyBubble's website to see your child's data – it's that simple. It works on almost every smartphone and you get a 60-day money back guarantee. The software is easy to install and starts working immediately. SpyBubble is the only cell phone company where you can monitor multiple cell phones with one license.
Instant Download
Product Features